People
Aunty Lorraine Peeters - Creator of the Marumali Journey of Healing Model and Marumali Program®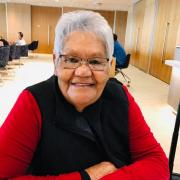 Auntie Lorraine Peeters has devoted many years of her life to supporting Aboriginal people heal from past and present traumas and helping others understand the unique experiences of Stolen Generations.
During childhood, like many other Aboriginal and Torres Strait Islander children, Auntie Lorraine was forcibly removed and separated from her home and family at the age of four and placed in an institution. Through the healing journey necessitated by this traumatic event in her childhood, and her involvement with the healing of others, Auntie Lorraine developed a model of healing. In response to great demand and through collaboration with others, she went on to develop the Marumali Program® that is an accredited training program and aims to increase the quality of support available to Stolen Generations. She has been facilitating the program workshops since 2000 and more than 3000 participants have completed the program and participants are empowered by the workshop and its model of healing. Since 2000 the Marumali Program® has been delivered to Bringing Them Home counsellors, Link-Up workers, social and emotional wellbeing workers, health staff and mental health practitioners.  Since 2002 the program has been delivered to inmates within correctional facilities throughout Victoria as a positive initiative of the Victorian Aboriginal Justice Agreement.
Auntie Lorraine played an active advocacy role in the lead-up to the National Apology.  She was NSW Senior Australian of the Year in 2009, and in 2011 she was co-winner of the World Council for Psychotherapy – Sigmund Freud Award and in 2012 won the Deadly Award for Lifetime Contribution Achievement Award for Healing the Stolen Generations. On the day of the National Apology, Auntie Lorraine presented to the then Prime Minister Kevin Rudd with the gift of a glass coolamon, traditionally a vessel for carrying children, containing a message thanking the Parliament for the Apology and a symbol of hope that Indigenous people placed in a new relationship.
Shaan Peeters,  director/program co-facilitator/project management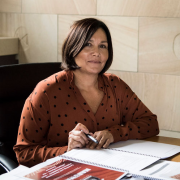 Shaan Peeters is a Gamilaroi / Weilwan woman and her involvement in Aboriginal affairs spans more than two decades.  She was born and raised in Darwin in the Northern Territory. She has worked in government, private and Aboriginal community controlled sectors in the areas of native title, tertiary and community education, policy development and the social and emotional wellbeing.  Shaan has been involved in the development and implementation of the Marumali Program since it began in 2000.  Shaan is a qualified educator and has a degree in Adult Education and is a qualified trainer/assessor and her involvement in Marumali includes co-facilitation of many Marumali workshops and cooridinated  an external evaluation of the Marumali Program in 2014. Shaan is a second generation Stolen Generations impacted by the experiences of her Mother's removal from family and community.